Hydragas and Hydrolastic suspension service and repair specialists
We are dedicated Hydragas suspension and Hydrolastic suspension car enthusiasts who want all owners of cars fitted with this unique suspension to get the most out of it. Our Director and Technician, Ian,  is an enthusiast of these cars and owns a collection of them himself.
We provide a re-gassing service for Hydragas Displacers and re-hosing for Hydrolastic.
Both suspension systems are generally reliable and long lived. The main problems are the slow and natural loss of gas from the Hydragas Displacers and perished hoses on the Hydrolastic units.
You can find out more about the Hydragas service here, and our Hydrolastic service here.
The 2018 book "British Leyland: The Cars,  1968-1986" by James Taylor  contains information about British Leyland cars including general information about Hydragas and Hydrolastic suspension. You can read excerpts from the book which is available here.
Our services:
Hydragas unit re-gassing
Hydrolastic unit re-hosing
Fitting service (including mobile) available
Hydragas Unit repair Service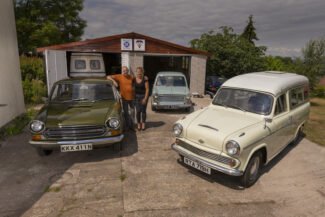 Our customers love what we do!
The car rides like a dream.
Worth every penny spent and keeps the car in original condition.
The service was efficient and the workmanship excellent with great attention to detail.
The cars ride was transformed. It's regained it's 'as new' ride.
I found the service to be very good and excellent value for money. Both Ian and Dawn were pleasant and very knowledgeable and got on with the work at hand
I like to back companies when you get a 5 star service, big thanks to Ian and Dawn Kennedy for the replacement suspension units, fast delivery and a good job, and always happy to help, give good advise , even when I'm asking a million questions at ) clock at night! ?
Top job, brilliant people , thank you ☺️
Thank you both for doing such a great job, just took Sharon out and she could not believe the difference!
Many thanks for excellent service…well worth the money ! My wife quite likes the car now !
What can I say? First class service! It was done bonnet to boot in just over 4 hours! It's like driving it from a show room it's amazing the difference! The steering feels lighter and handles amazing. The car was a bone shaker now it's like a limo, amazing! Thank you for your wonderful service.